Tree Removal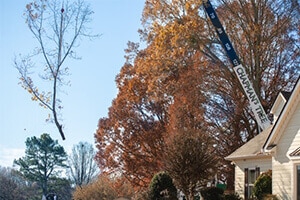 At Chapman's Tree Service Inc. we are tree removal experts for residential and commercial places in our surrounding service area of Marietta, GA. Professionalism and quality is our prerogative for customer assurance. We represent the answer and solution to proper tree care and maintenance which includes the removal of trees to lessen damages, promote the growth of other trees, or protect the rest of your property from infection of common plant-specific diseases. We also provide stump removal for trees that have already been cut and disposed of.
Creating a Safe Environment
One of the most important reasons to seek tree removal service is to protect your property and environment from hazardous trees. Many types of trees can be subject to disease or malnutrition. There are various diseases that plague our beloved plants, but there are specific infections that cause trees to lapse and fall from weakened joints in the branches and limbs. If the tree is unsavable we recommend an immediate removal to prevent damages to people, houses, or buildings. Malnutrition can lead to dead wood, where trees are not receiving the proper amount of 'food' to sustain life. Dead wood is especially dangerous due to its' unexpected nature of falling limbs that are liable to drop randomly without warning.
Common Symptoms To Look For
Occasionally there will be times when a tree needs to be removed, but why? How will you know if it's absolutely necessary to remove a tree? These are questions to be answered by real experts at Chapman's with over 20 years experience. However, there are some common symptoms that you can inspect for yourself or may have already noticed, such as:
If you are not sure about needing a tree removed, you can consult one of our arborists by contacting us via phone or online.
Expected Cost of Tree Removal
Many homeowners and business owners ask the exact same questions. How much to remove a tree? How much to cut down a tree? (And then dispose of it yourself). All of these are better calculated with the consultation of our arborists. The truth is, it's hard to estimate tree removal rates without knowing the size, circumference, limb length, and crowning coverage. This doesn't include the amount of space that we are provided to work with.
Some trees can be cut down and surgically split afterwards, while others will need to be 'trimmed' and cut into several pieces while the tree remains standing. In these situations, our arborists have to climb the tree and saw specific parts in order to safely dispose of each branch before finally cutting the tree to fall. It's a delicate process, and it's very hard to determine how much to cut a tree down without knowing any details.
Finding A Contractor That Is Well Equipped
If you have much larger trees that need to be removed it's important to find the right service provider that can properly dispose of these scalable sizes. That includes all of the proper equipment and tools to handle climbing, dropping limbs, and wood grinding. Chapman's Tree Service is one of few in the list of tree removal contractors within Marietta, GA that is certified and equipped handle larger projects. Older trees by nature are much bigger with wider trunks, branches, and limbs. This requires long-bladed chainsaws to cut through the circumference, climbing harnesses and rope to drop higher appendages to the ground, and a bigger truck that can handle grinding large amounts of 'green' wood.
Contact Us For A Free Evaluation
Feel free to contact us and one of our arborists can come out and evaluate the tree and then recommend a course of action to remove the tree or any alternatives if it possible to save the tree. In addition to the removal of the tree we offer stump removal and grinding services to get rid of everything there so you can get other plants or grass in the areas soon.