About Us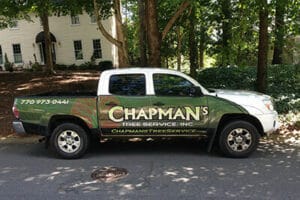 We offer a complete line of tree services to the greater Marietta area. We have a certified arborist on staff and our associates have many years of experience in the field. Our reputation for detail is second to none and our commitment to safety is unsurpassed. Weekly training programs keep our crews abreast on the latest techniques and training on the latest equipment to keep them safe and give them the know how to get the job done right. Chapman's Tree Service has an accident free record that spans several years and we are fully insured and certified against anything that could happen.
If you need any type of tree service including: removal, pruning, trimming, and so on, we are the one to call.
Chapman's Tree Service has emergency crews available 24 hours a day, 7 days a week to assist you.
If you are in need of landscaping services, we recommend Synergy Landscape Group.