Stump Removal & Grinding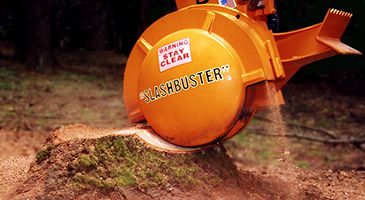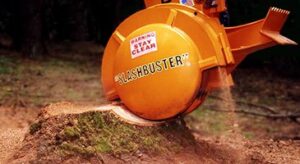 If you have a stump on your property after you've had a tree removed you need removed contact the professionals at Chapman's Tree Service. We offer reliable stump removal services that are thorough and precise. We leave no traces of the tree by disposing of exposed roots and disintegrating the trunk below ground-level. With our 30 years experience and advanced equipment, your stump will be disposed of quickly within the same day at an excellent rate.
Stump Grinding Versus Stump Removal
We have two options available to remove stubborn stumps depending on the situation. Usually, we grind a stump using heavy machinery called a "stump grinder" that will virtually turn any trunk into wood chips. However, there are some rare cases with many variables that require 'pulling' the tree trunk from the ground, ripping out the root core in the process. In most cases we recommend grinding as it remains more economical, less time consuming, and less costly.
Removing A Stump The Old Fashioned Way
There are some cases where removing a dead tree trunk 'the old fashioned way' is beneficial. We usually consider this if a stump is threatening to regrow or promote the growth of new trees using it's subterranean roots. We solve this by directly pulling and ripping the core roots out from the ground, effectively disposing the stump at the same time. It takes a lot of power and pressure, and only advise our customers this option if absolutely necessary.
Grinding The Stump
Stump grinding is the exact opposite alternative, and main method for removing old tree trunks. It's a quick, simple process that utilizes our heavy machine to grind the stump into tiny pieces until there is nothing left. Our team is trained to always make sure the exposed wood is worn down below ground level to ensure the root core is tarnished enough, disabling regrowth and promoting natural decomposing. Any root attached will be infected and eventually decompose as well, thus removing the entire tree remains.
Average Cost of Stump Grinding
After you have a tree removed you're always left with an unsightly stump sitting in the middle of your property. This stump can be an eyesore and a safety hazard anyone, homeowner or business owner alike. Chapman's Tree Service Inc. can help you get rid of this with our stump removal services using stump grinding. However, how much does stump grinding cost per inch? What is the average?
The answer is harder to answer than you think. There are no set rates for the various tree stumps we come across. Like trees, each stump is different in size, circumference, The size of the stump will determine the method we use to remove it, but we will generally use a stump grinder to turn it into wood chips on the project site. We can either leave these chips or remove them from the property.
A Service For Professionals Only
There are many homeowners who try to accomplish certain jobs on their own. You could try to find stump grinder rentals near you and dispose of the dead tree trunk yourself. However, it's vastly time consuming using smaller machinery and more expensive. Average rates of rentals are almost always more costly than having one of our team members do it for you. Even then, it takes hours to eradicate all of the stump and the surrounding exposed roots. With our large machine we can effectively complete the job within an hour for less.
Grinders are machines that should strictly be used by train professionals. Failure to know how to properly operate the machine could cause very dangerous situations to occur.
Stump Grinding Available in:
Speak To A Stump Removal Expert!
It is not recommended to try and remove the leftover stump after tree removal on your own. If you don't know what you are doing, the entire process can prove to be very time-consuming, frustrating, and even dangerous. Speak to a stump removal expert today by contacting us via phone or online contact form. Serving Marietta, GA and the surrounding areas we guarantee a quick and easy disposal.